Organised by department of Computer Science & applications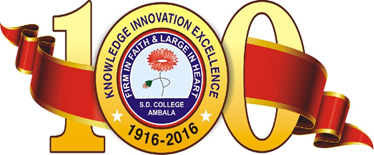 Under the ugc scheme of deen dayal upadahyaya kaushal Kendra Sanatan dharma college(Lahore) Ambala cantt
OBJECTIVE OF INDUSTRIAL VISIT
The Objective of the Industrial Visit is to help students gain first hand information regarding functioning of the industry which presents the students with opportunities to plan, organize and engage in active learning experiences both inside and outside the classroom.
Special Objectives for the Students
To understand the processØ
To experience chemistry at work.
To become aware of the role of different people in an organization.
To become aware of Career Opportunities
To recognize the need for Health and Safety in the workplace.
To focus students of specific aspects of their studies.
About the Visit:
Visit to CS Softsolution Pvt. Ltd. , mohali on 22.09.2018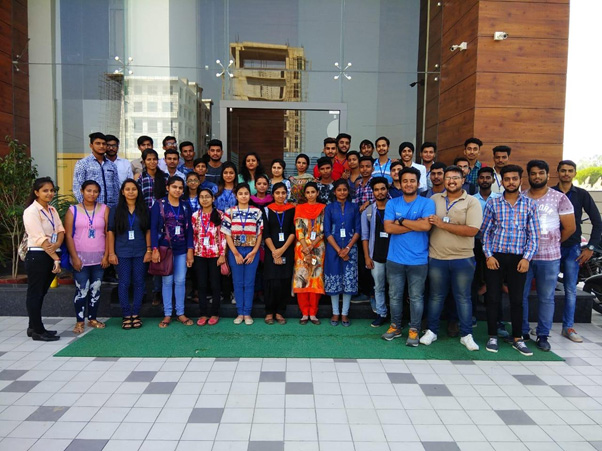 As the proverb goes " The Logic Can Take You From A To B , But Imagination Can Take You Anywhere" it perfectly corroborates to the magnificent creations of Computer Science & Information Technology which have been built by the admirers of Computer Science following their creative insight. No other branch of science is growing so fast and involve creative and ingenious as Computer Science is, so in order to cater to the creative minds of Software/IT students and to make them abreast with the practical side of their coursework, a site visit to CS SoftSolution Pvt. Ltd of Mohali is organised by Department of Computer Science under the UGC Scheme of Deen Dayal Upadhaya Kuasal Kendra on
22nd September,2019.A group of 80 Students got an opportunity to explore work culture of Software industry and learn about the career oppurtunities in Software industries.Ms. Poonam, Ms, Hina, Ms. Kanika and Ms. Ruchi accompanied students to CSSoftSolutions Pvt. Ltd. Mohali.
Visit to XportSoft Technologies, Ambala cantt on 13.10.2019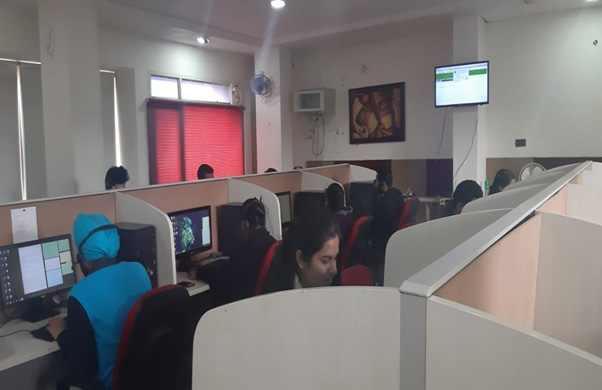 As said by Francis Bacon that "Travelling in the younger sort is part of education, while in the elder sort it is part of experience", thus, corroborating the quote aforementioned we the faculty members at Computer Science and Applications department felt the need for organizing an educational visit for the students to Xportsoft Technologies, Ambala Cantt on 13.10.2019 so that they can better understand the intricacies involved when we apply the theoretical concepts learned in their couirsework. 40 students of B.Voc Software Development and B.Voc BPO visited the company along with Ms. Ponnam Rani.
Visit to Madrid Technologies, mohali on 14.01.2019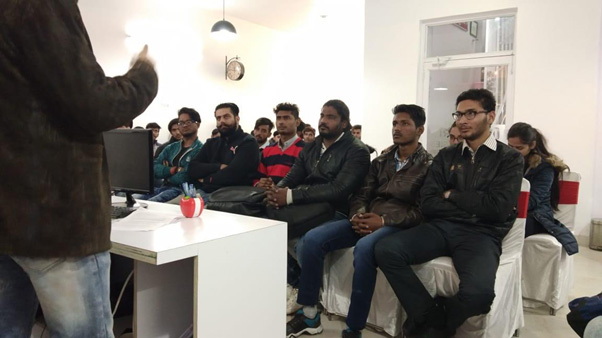 Another visit to Madrid Technologies, Mohali was organised on 14.01.2019. Ms. Ruchi and Ms. Poonam along with a group of 50 students of B.Voc Software Development learnt the latest technologies demonstrated by the IT Professionals of Madrid Technologies. They presented how software team work collectively to acquire, develop, analyze , test and maintain the software product.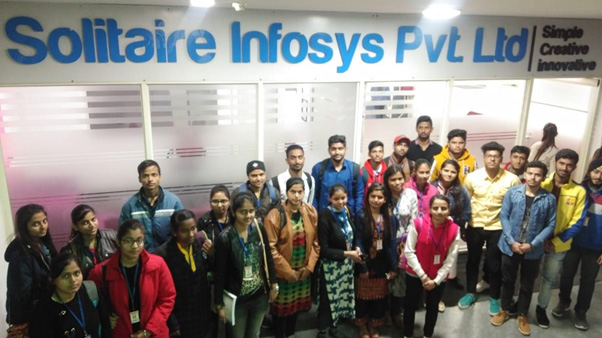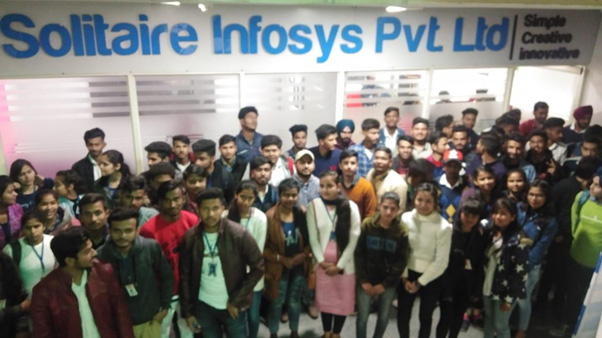 Visit to Solitaire Infosys Pvt. Ltd. On 02-03-2019
154 students of Department of Computer Science and applications got another opportunity to visit Solitaire Infosys Pvt. Ltd. On 02-03-2019 along with faculty members Ms. Pooname Rani, Ms mandeep, Ms., kamna, Ms. Preeti and Ms. Amandeep Kaur. Solitaire Infosys Pvt. Ltd. is a multi faceted IT organization serving expertise and delivering seamless and cutting edge solutions worldwide. They are a competent and revolutionizing team of skilled professionals with an experience and outlook to comprehend and serve the global market with unparalleled standards. They have efficiently and successfully served clients at par excellence with their array of insurgent technologies and augmented innovations in the field. They strive to offer tailored and integrated solutions as per their client's perceptions and needs to satisfy their clients with the aim of creating long term and resourceful relations throughout.
Students got the opportunity to work in their Digital Literacy lab and learnt about Basics of PHP and Project Devlopment Life Cycle.
List of Students for Industrial Visit to Solitaire Infosys, Mohali on 02-03-2019
| | | | | |
| --- | --- | --- | --- | --- |
| S. NO. | ROLL. NO | NAME | MOBILE | CLASS |
| 1. | 2379410002 | PRATIK CHAUHAN | 7015192478 | B.VOC (SD) I |
| 2. | 2379410003 | ANSHUMAN | 8571024286 | B.VOC (SD) I |
| 3. | 2379410008 | GOURAV CHAUHAN | 8816815830 | B.VOC (SD) I |
| 4. | 2379410009 | ASHISH MEHTA | 9034181940 | B.VOC (SD) I |
| 5. | 2379410011 | JONY | 8708003469 | B.VOC (SD) I |
| 6. | 2379410012 | ABHISHEK | 8607072956 | B.VOC (SD) I |
| 7. | 2379410014 | KIRTARTH SINGH RAWAT | 8950928838 | B.VOC (SD) I |
| 8. | 2379410016 | SAGAR ATTRI | 9996201629 | B.VOC (SD) I |
| 9. | 2379410018 | SARBJEET SINGH | 7027178581 | B.VOC (SD) I |
| 10. | 2379410020 | DEEPAK KUMAR | 8168609881 | B.VOC (SD) I |
| 11. | 2379410022 | CHETAN | 8199966636 | B.VOC (SD) I |
| 12. | 2379410023 | SANJEEV KUMAR | 8168575423 | B.VOC (SD) I |
| 13. | 2379410024 | ADIT SUNEJA | 8059215992 | B.VOC (SD) I |
| 14. | 2379410026 | JATIN | 7404419196 | B.VOC (SD) I |
| 15. | 2379410035 | ABHINIL | 7056367059 | B.VOC (SD) I |
| 16. | 2379410036 | SHIVENDER SHARMA | 9812486626 | B.VOC (SD) I |
| 17. | 2379410037 | SAHIL ANTWAL | 7404500495 | B.VOC (SD) I |
| 18. | 2379410038 | BUNTY KUMAR | 8397066540 | B.VOC (SD) I |
| 19. | 2379410039 | AKSHAY KUMAR | 7027781548 | B.VOC (SD) I |
| 20. | 2379420002 | MEHAK | 7988378447 | B.VOC (SD) I |
| 21. | 2379420004 | SAKSHI SETHI | 8950203806 | B.VOC (SD) I |
| 22. | 2379420005 | NISHU KAUSHIK | 8053778072 | B.VOC (SD) I |
| 23. | 2379420006 | TIKSHA AGGARWAL | 7206030163 | B.VOC (SD) I |
| 24. | 2379420008 | SHIVANI | 9896480406 | B.VOC (SD) I |
| 25. | 2379420009 | KHUSHI SURI | 9996134858 | B.VOC (SD) I |
| 26. | 2379420010 | MUSKAAN SURI | 9996134858 | B.VOC (SD) I |
| 27. | 2379420011 | MUSKAN AGGARWAL | 8901079618 | B.VOC (SD) I |
| 28. | 1645010002 | GAURAV | 8059821332 | B.VOC (SD) II |
| 29. | 1645010003 | GOVIND | 8295884223 | B.VOC (SD) II |
| 30. | 1645010004 | SAURABH SHARMA | 9996369591 | B.VOC (SD) II |
| 31. | 1645010006 | VIJAY | 8398904138 | B.VOC (SD) II |
| 32. | 1645010009 | NITESH KUMAR | 9992921284 | B.VOC (SD) II |
| 33. | 1645010012 | AMIT KUMAR | 9996708260 | B.VOC (SD) II |
| 34. | 1645010013 | NAVJOT SINGH | 8814993841 | B.VOC (SD) II |
| 35. | 1645010016 | SAGAR SINGH CHAUHAN | 8570002314 | B.VOC (SD) II |
| 36. | 1645010019 | AKSHAY KAPOOR | 9896455335 | B.VOC (SD) II |
| 37. | 1645010023 | KARAN KUMAR | 7876029019 | B.VOC (SD) II |
| 38. | 1645010025 | NIKHIL | 9034590831 | B.VOC (SD) II |
| 39. | 1645020001 | RADHA AHUJA | 9466537520 | B.VOC (SD) II |
| 40. | 1645020003 | BHAWANA | 9813371512 | B.VOC (SD) II |
| 41. | 1645020007 | DEEPIKA | 9728127450 | B.VOC (SD) II |
| 42. | 1615802 | KOMAL | 8570940928 | B.VOC (SD) III |
| 43. | 1615805 | RAVEENA | 8814027280 | B.VOC (SD) III |
| 44. | 1615806 | SHIVANI | 7206969056 | B.VOC (SD) III |
| 45. | 1615902 | KUMAR GAURAV | 9813381211 | B.VOC (SD) III |
| 46. | 1615903 | MEHUL | 9518635097 | B.VOC (SD) III |
| 47. | 1615905 | ASHISH | 9466608564 | B.VOC (SD) III |
| 48. | 1615910 | DEVASHISH | 9802429602 | B.VOC (SD) III |
| 49. | 1615914 | BALWINDER | 9813224418 | B.VOC (SD) III |
| 50. | 1615916 | ONISH | 9017159932 | B.VOC (SD) III |
| 51. | 1615917 | PRABHJOT | 8930533763 | B.VOC (SD) III |
| 52. | 1615918 | SUNIL | 7988103954 | B.VOC (SD) III |
| 53. | 1615919 | ROHAN | 7015697286 | B.VOC (SD) III |
| 54. | 1615927 | MUKUL | 8168783648 | B.VOC (SD) III |
| 55. | 1615928 | ASLAM | 9034500585 | B.VOC (SD) III |
| 56. | 1615930 | HARSHIT | 9728282849 | B.VOC (SD) III |
| 57. | 2365710002 | AJAY | 9896753480 | B.SC (HONS)-IT-I |
| 58. | 2365710003 | VISHAVJEET | 8168176057 | B.SC (HONS)-IT-I |
| 59. | 2365710004 | VISHAL | 9729866494 | B.SC (HONS)-IT-I |
| 60. | 2365710005 | MOHIT | 7027063664 | B.SC (HONS)-IT-I |
| 61. | 2365710006 | ASHWANI | 8168780480 | B.SC (HONS)-IT-I |
| 62. | 2365710007 | SURAJ | 8816070480 | B.SC (HONS)-IT-I |
| 63. | 2365710009 | RITIK | 7056040015 | B.SC (HONS)-IT-I |
| 64. | 2365710010 | GAURAV | 8059313160 | B.SC (HONS)-IT-I |
| 65. | 2365710011 | PRABHAT | 7357007988 | B.SC (HONS)-IT-I |
| 66. | 2365710014 | DEEPANSHU | 9034493938 | B.SC (HONS)-IT-I |
| 67. | 2365710018 | MOHIT | 7082239430 | B.SC (HONS)-IT-I |
| 68. | 2365710019 | RAJAT | 8059184538 | B.SC (HONS)-IT-I |
| 69. | 2365720002 | MAHIMA | 7027372486 | B.SC (HONS)-IT-I |
| 70. | 2365720003 | MUSKAAN | 8607342306 | B.SC (HONS)-IT-I |
| 71. | 2365720004 | SIMRAN | 8053530818 | B.SC (HONS)-IT-I |
| 72. | 2365720006 | POOJA | 8295176953 | B.SC (HONS)-IT-I |
| 73. | 2365720008 | ARZOO | 9053266055 | B.SC (HONS)-IT-I |
| 74. | 2365720009 | HARPREET | 7082146513 | B.SC (HONS)-IT-I |
| 75. | 2365720010 | MUSKAAN | 9588194519 | B.SC (HONS)-IT-I |
| 76. | 1631320001 | JASPREET | 7027054228 | B.SC (HONS)-IT-II |
| 77. | 1631320004 | NAVNEET | 8708063970 | B.SC (HONS)-IT-II |
| 78. | 1631310017 | PIYUSH | 9518197785 | B.SC (HONS)-IT-II |
| 79. | 1631310018 | SARABJEET | 8529074162 | B.SC (HONS)-IT-II |
| 80. | 1631310019 | SAGANDEEP | 7404608404 | B.SC (HONS)-IT-II |
| 81. | 1631310025 | SUNIL | 8250719920 | B.SC (HONS)-IT-II |
| 82. | 1631310026 | PIYUSH | 9992983357 | B.SC (HONS)-IT-II |
| 83. | 1615301 | PRIYANKA | 7015389381 | B.SC (HONS)-IT-III |
| 84. | 1615306 | ANJALI | 8570048210 | B.SC (HONS)-IT-III |
| 85. | 1615308 | KANUPRIYA | 8396049133 | B.SC (HONS)-IT-III |
| 86. | 1615701 | MOHIT | 8816945212 | B.SC (HONS)-IT-III |
| 87. | 1615708 | RAHUL | 9518617816 | B.SC (HONS)-IT-III |
| 88. | 1615710 | TARUN | 8950291030 | B.SC (HONS)-IT-III |
| 89. | 1615718 | DINESH | 8430000019 | B.SC (HONS)-IT-III |
| 90. | 1615719 | AASHISH | 8683826518 | B.SC (HONS)-IT-III |
| 91. | 1615720 | SATISH | 8168217419 | B.SC (HONS)-IT-III |
| 92. | 1615721 | RAJESH | 9050270126 | B.SC (HONS)-IT-III |
| 93. | 1615722 | AMANDEEP | 9729489816 | B.SC (HONS)-IT-III |
| 94. | 1615723 | RAMAN | 9671988063 | B.SC (HONS)-IT-III |
| 95. | 1615725 | SHIVAM | 9467578695 | B.SC (HONS)-IT-III |
| 96. | 1615727 | CHANINDER | 7015249065 | B.SC (HONS)-IT-III |
| 97. | 1615732 | LOVE | 8950912213 | B.SC (HONS)-IT-III |
| 98. | 1615733 | VISHAL | 7056913531 | B.SC (HONS)-IT-III |
| 99. | 1615612 | SAIF ALI | 9218555962 | BCA III |
| 100. | 1615641 | AJAY KUMAR | 9996681096 | BCA III |
| 101. | 1631110002 | ASHISH BANSAL | 9896630162 | BCA II |
| 102. | 1631110003 | KARTIK SAINI | 7056806673 | BCA II |
| 103. | 1631110050 | BHUPESH KUMAR HANS | 8708104956 | BCA II |
| 104. | 1631110031 | UJJWAL KUMAR | 9896939671 | BCA II |
| 105. | 1631110037 | AMRISH KUMAR PANDEY | 9671355034 | BCA II |
| 106. | 1631110034 | YOGESH CHAUHAN | 8684950671 | BCA II |
| 107. | 1631110007 | MONISH WALIA | 7206563925 | BCA II |
| 108. | 1631110009 | HARSH SAINI | 8295114526 | BCA II |
| 109. | 1631110008 | KARAN PAL | 9729053983 | BCA II |
| 110. | 2366010002 | SAHIL SHARMA | 8221924068 | PGDCA |
| 111. | 2366020002 | MANDEEP KAUR | 9812395090 | PGDCA |
| 112. | 2366020003 | MEHAK SINDWANI | 7206222597 | PGDCA |
| 113. | 2366020004 | NANSPREET KAUR | 8199907604 | PGDCA |
| 114. | 1612109 | FERDOSI | 8222813511 | BCOMCOMP. APP. (V) III |
| 115. | 1612122 | TAMANNA RANI | 9896646364 | BCOMCOMP. APP. (V) III |
| 116. | 1612124 | ANCHAL CHAUHAN | 8295542057 | BCOMCOMP. APP. (V) III |
| 117. | 1612125 | NEETU | 9034067030 | BCOMCOMP. APP. (V) III |
| 118. | 1612103 | ANNU SAINI | 9466412482 | BCOMCOMP. APP. (V) III |
| 119. | 1612115 | PRIYANKA AGGARWAL | 9017176811 | BCOMCOMP. APP. (V) III |
| 120. | 1612119 | JYOTI | 9896073599 | BCOMCOMP. APP. (V) III |
| 121. | 1612123 | KIRTI PAL | 9034910131 | BCOMCOMP. APP. (V) III |
| 122. | 1612105 | SUKRITI | 9468449586 | BCOMCOMP. APP. (V) III |
| 123. | 1612120 | NEHA DOGRA | 9896516524 | BCOMCOMP. APP. (V) III |
| 124. | 1612106 | SANYOGITA | 8950315080 | BCOMCOMP. APP. (V) III |
| 125. | 1615403 | SUHAIL SAINI | 8222827322 | BSCCOMP. SC III |
| 126. | 1615401 | RYTHEM | 9416115311 | BSCCOMP. SC III |
| 127. | 1615407 | JAGMEET SINGH | 9466019647 | BSCCOMP. SC III |
| 128. | 1615416 | VIKRAMJEET SINGH | 9729578268 | BSCCOMP. SC III |
| 129. | 2365520009 | SIMRANJIT KAUR | 9518499294 | BCA I |
| 130. | 2365520002 | NIKITA DEVI | 9896575878 | BCA I |
| 131. | 2365520005 | URVASHI | 7015644905 | BCA I |
| 132. | 2365520012 | KRITIKA | 9416273008 | BCA I |
| 133. | 2365520015 | SIMRAN | 7082519673 | BCA I |
| 134. | 2365520008 | MANISHA PANCHAL | 9306744249 | BCA I |
| 135. | 2365520014 | NIDHI KUMARI | 8938802901 | BCA I |
| 136. | 2365510013 | AKSHIT DUTTA | 8708272600 | BCA I |
| 137. | 2365510009 | YASH KUMAR | 7495038614 | BCA I |
| 138. | 2365510023 | SIMRAN SINGH | 7056911748 | BCA I |
| 139. | 2365510031 | SUKHDEV DOGRA | 9896487069 | BCA I |
| 140. | 2365510008 | MANPREET SINGH | 9729005852 | BCA I |
| 141. | 2365510011 | PARSHANT | 8059927506 | BCA I |
| 142. | 2365510034 | DIVAM SHARMA | 9034942082 | BCA I |
| 143. | 2365510041 | AYUSH KUMAR | 9991234219 | BCA I |
| 144. | 2365510014 | AMRIT BANGA | 8221020937 | BCA I |
| 145. | 2365510018 | ANSHUL SHARMA | 7404802448 | BCA I |
| 146. | 2365510021 | SHIVAM MALHOTRA | 8930444588 | BCA I |
| 147. | 2365510042 | JAI KRISHAN | 7404957792 | BCA I |
| 148. | 2365510049 | KUNAL KUMAR | 9138664205 | BCA I |
| 149. | 2365510050 | AKSHIT KUMAR | 8708321935 | BCA I |
| 150. | 2365510046 | SUBHAM | 8295291949 | BCA I |
| 151. | 2365510052 | NIKHIL DHIMAN | 7973195065 | BCA I |
| 152. | 2365510038 | ABHISHEK TANDON | 9813783071 | BCA I |
| 153. | 2365510032 | TRIPTJOT SINGH GILL | 9896566509 | BCA I |
| 154. | 2365510059 | YUVRAJ | 9466237018 | BCA I |